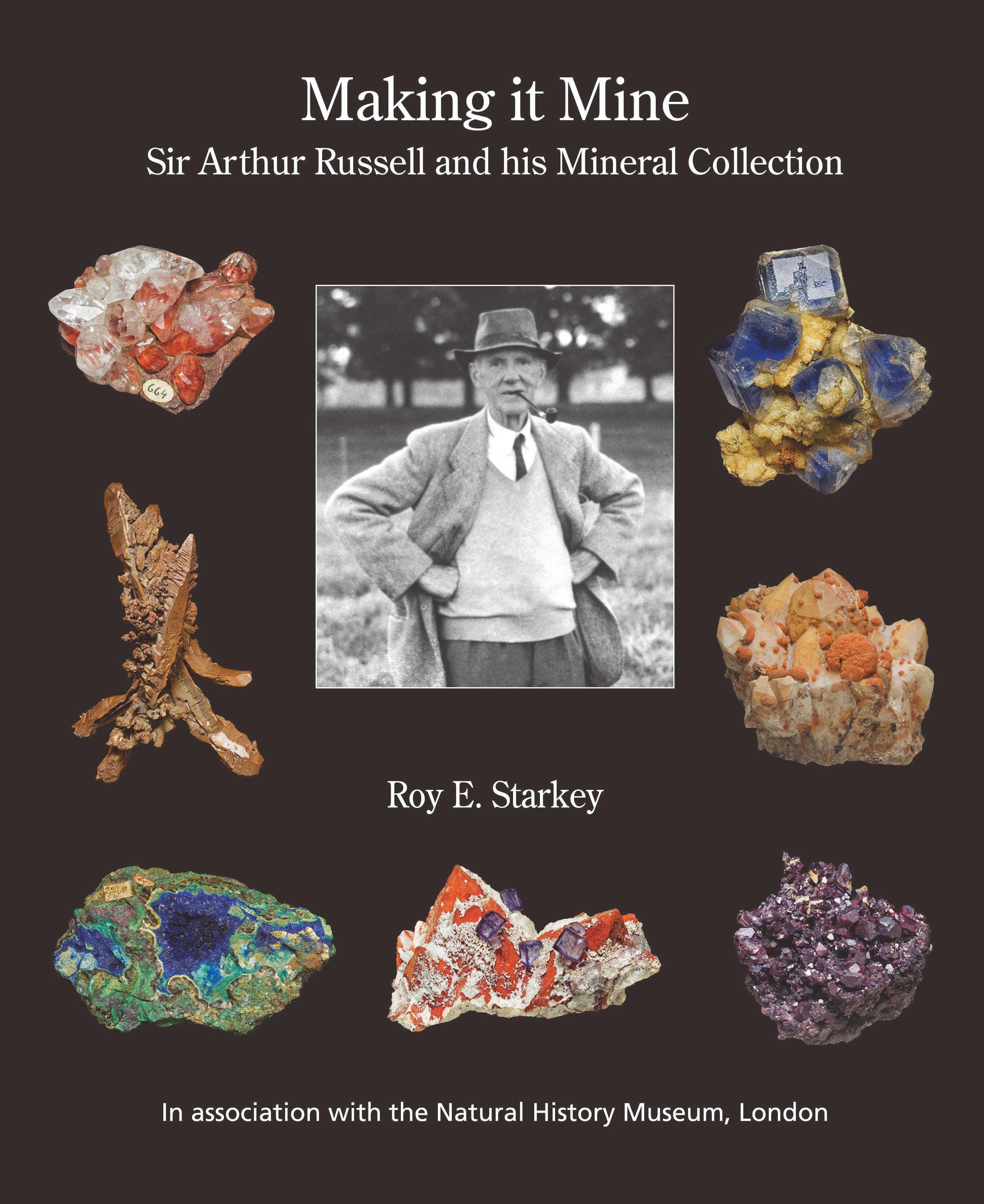 Thank you for your interest in Making it Mine – Sir Arthur Russell and his Mineral Collection. You can order a copy online from this page, and pay securely using a debit or credit card via PayPal.
You can read a recent review of the book published in The Mineralogical Record here Making it Mine – review Min.Rec. vol.53 no.5 (Review reproduced by kind permission of The Mineralogical Record) and another review from the Journal of The Russell Society here Making it Mine – Journal of The Russell Soc. vol. 25 review (reproduced by kind permission of The Russell Society).
You can also obtain the book from a small number of overseas and local stockists (see the list lower down this page) – if you live near one of these stockists, please give them your support – thank you.
Since the United Kingdom left the European Union on 31 December 2020, countries within the EU have begun to charge VAT on most goods supplied from the UK, including books. The charge is collected by the postal authority in each EU country and must usually be paid by the recipient before a parcel can be delivered. The postal authority may also charge a handling fee to cover their costs in collecting the VAT.
The book is available as hardback only.
There are FOUR different prices: –
UK postage inclusive £50
Europe postage inclusive £60
Rest of World (excluding Australia and New Zealand) postage inclusive £75
Australia and New Zealand postage inclusive £80
Click on the small black triangle in the drop down menu box to reveal the four pricing options and select the correct price for your country. Then click on the Buy Now button and follow the instructions.
The book is a large and heavy volume (2.5kg) and I have set the cover price deliberately low to help off-set the relatively high cost of shipping.
In case of any problems, or if you need more than one copy, please send me a message via the contact page. If you want to order multiple copies I will do my best to minimise shipping costs and invoice you directly.
PLEASE NOTE THAT ONLINE PARCEL COURIER SERVICES NOW REQUIRE A CONTACT TELEPHONE NUMBER FOR DELIVERY.
PLEASE INCLUDE (PREFERABLY A MOBILE) PHONE NUMBER AT THE END OF THE ADDRESS FIELD WHEN YOU ENTER YOUR DETAILS IN THE PAYPAL SCREEN.
I WILL NOT BE ABLE TO SHIP YOUR BOOK WITHOUT THIS INFORMATION. THIS APPLIES TO BOTH UK AND INTERNATIONAL SHIPMENTS. THANKS.
Price is per copy including postage and packaging.
Please note that you do not need to have a PayPal account in order to pay using the PayPal system. You can use any major debit or credit card such as Visa, Mastercard etc.
Simply follow the instructions for PayPal Guest Checkout and once you have entered all the details click the blue Pay Now button at the bottom of the payment screen. Your transaction will be securely processed by PayPal.
IMPORTANT – PLEASE USE THE DROP DOWN MENUS BELOW TO SELECT THE AREA IN THE WORLD TO WHICH YOU WANT IT DESPATCHED AND THE CORRECT POSTAGE. CHECK THAT YOU HAVE SELECTED THE CORRECT DESTINATION – UK, EUROPE, REST OF WORLD (EXCLUDING AUSTRALIA AND NEW ZEALAND), OR AUSTRALIA AND NEW ZEALAND BEFORE YOU CLICK BUY NOW.
I will send you an email to confirm receipt of your order and payment, and will also let you know when I have despatched the book.
Happy reading!
Local stockists
Brantwood, Coniston, Cumbria  https://www.brantwood.org.uk/?gclid=Cj0KCQjwjvaYBhDlARIsAO8PkE1GzOnWFPPrz0Z6q0u_dqP-2zwqAwMNO8I3CBTLSrrkCH766uVDMOgaAhINEALw_wcB
Crystal Classics, Yeovil, UK https://www.crystalclassics.co.uk/
Lithographie Ltd., Denver, Colorado, USA https://www.lithographie.org/bookshop.htm
Les Éditions du Piat, France https://www.minerauxetfossiles.com/
Tucson Fine Mineral Gallery, Tucson, USA https://tucsonfineminerals.com/
Scarthin Books, Cromford, Derbyshire http://www.scarthinbooks.com/
The National Stone Centre, Wirksworth, Derbyshire   http://www.nationalstonecentre.org.uk/
Museum of Lead Mining, Wanlockhead, Scotland https://www.leadminingmuseum.co.uk/
NOTE: Please contact the vendor to confirm stock availability before travelling.
If you are a re-seller and would be interested in stocking the book please get in touch via the contact form.